Israel's "White City" is a lively scene with a unique culture, stunning beaches, breathtaking sunsets, and an energetic nightlife. Tel Aviv-Yafo is home to a wide range of inhabitants, housing subgroups including secular and religious Jews, Arabs, foreign workers, and asylum seekers.
During your 10-month Israel experience, half your time will be spent living in Tel Aviv-Yafo. You'll be working in the southern part of the city within a lower socioeconomic school with a large migrant population. Your other five months will be spent in Beit She'an.  By this dual-city track, you'll have the opportunity to experience unique and different Israeli lifestyles, while making a huge difference in the country's society.
Learn more about teaching English in Tel Aviv here.
Beit She'an is a small and welcoming city located in the southern Galilee, along the Jordan River Valley. This diverse local community is well known for its warmth, hospitality, and familial atmosphere. With a population comprised of immigrants from North Africa, the Middle East, the Former Soviet Union, and Ethiopia, Masa Israel Teaching Fellows in Beit She'an have the unique opportunity to experience a variety of cultures and Jewish traditions.
The breathtaking scenery creates beautiful opportunities for Fellows to hike along the many springs that flow in the nearby valley. One of the biggest attractions in the area, Gan Hashelosha or The Sachne, was named one of the 20 most beautiful sites in the world by Time Magazine, and features natural hot springs that are warm enough to swim in all year. Furthemore, Beit She'an National Park features some of the country's most significant archaeological finds, dating back to the Bronze Age.
Masa Israel Teaching Fellows in Beit She'an receive additional programming benefits and volunteering opportunities courtesy of the Jewish Federation of Cleveland and their longstanding relationship with their sister city.
After an initial period of pedagogical training, Fellows work alongside one or more of their peers for at least 25 hours each week in a public school, leading small group tutoring sessions. On average, most Masa Israel Teaching Fellows in Beit She'an have a ten-minute commute to their schools. In addition to teaching English, Fellows also have the opportunity to create secondary community volunteer projects based on their own backgrounds and interests.
Fellows currently live in a fully-furnished Co-Op style house surrounded by beautiful date trees. The house is centrally located and within walking distance of the main open air shopping center where Fellows can walk and explore the town's incredible natural beauty. Fellows are often invited to Shabbat and holiday meals in the community, where they experience Beit She'an like a true local.
9:00 a.m. English Tutoring at "Rambam" Elementary School. The kids are so excited to see us! The school is warm and welcoming…students even use their teacher's first name.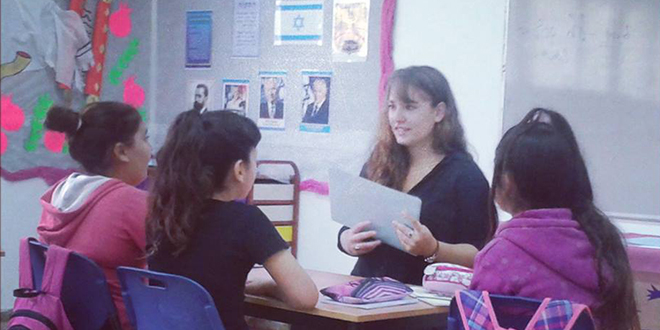 12:00 p.m. Hafsaka Peila (active recess) is the best time to have fun with our students. We do Aerobics outside together, we teach them songs, and engage in any other activity that will help the students improve their English skills. Here we made candy shish kababs.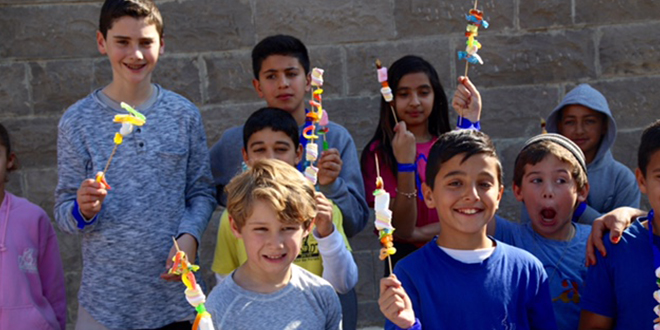 4:00 p.m. Each of us has a host family here, but Etty, one of our "Moms" is really outstanding. She's pictured here teaching us the secret techniques of cutting a real Israeli salad, katan katan (which means: cut the vegetables really small)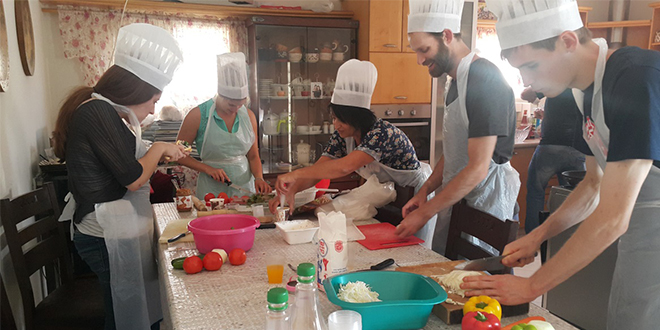 7:00 p.m. Beit She'an is a tiny town, so you can basically walk or bike everywhere. In the evening. When it cools down, everyone sits outside, or we walk together to the recreation center.
Friday at 4:00 p.m. The weekend has arrived! We enjoy the amazing nature that surrounds us in the Valley of Spring's region. We hike a lot and swim in the Sachne (selected by 'Time' magazine as one of twenty sites around the world worthy of a detour)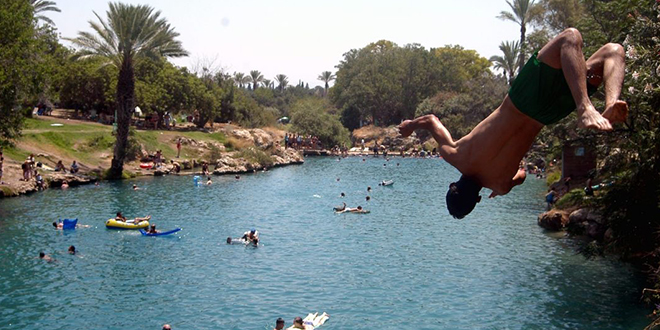 Here we are taking a tour on the Bar-Ofan (Bike-Bar). Talk about Israeli technology; paddling creates electricity that operates a system of coolers on the vehicle's roof. We enjoy the scenery while drinking beer, but don't worry, the bartender comes with the tour!
The BINA: The Jewish Movement for Social Change operates a broad range of programming for Jewish young adults from around the world based on pluralistic Jewish study and community service, putting the Jewish values of "tikkun olam" (repairing the world) into action through projects focusing on coexistence, social activism and pluralistic Jewish learning. As a Masa Israel Teaching Fellow on a BINA program, you will have the opportunity to experience educational enrichment programming from one of Israel's leading movements in Jewish social justice while connecting with Israeli peers working in the same communities through other BINA projects.